5 Must-Have Winter Boots
If you live in a colder climate, boots are a part of your wardrobe. Below I list some of my favourite boots that I own and wear in the winter that keep me warm without sacrificing looking cute!
1. The Waterproof Snow Boot
A snow boot is a definite must-have and make sure its waterproof. When it snows, it gets slushy and wet and the last thing anyone needs is a wet sock. These boots will beat the snow and keep you warm.
The Ugg boots are available in high tops as well if you are looking for a higher snow boot. I opted for a shorter version so I don't have to stuff too much pant into it.
UGG Adirondack Boot II Women's Waterproof Snow Boots in Black
2. Everyday Comfort Winter Boot
This boot is a staple for me. Winter comfort is important, considering the cold is generally uncomfortable. These Mukluks not only keep your feet super warm because of the fur lining, but they are also so comfortable you forget you are even wearing anything. The other bonus for me is that it is zero hassle putting them on. You literally slide your foot in and you are out the door.
The pompoms on the side give it a nice feminine touch. I love how they bounce around as you walk. I got them in the color oak because they match with almost everything!
3. Stylish Bootie
Everyone needs a stylish bootie. They are not the ultimate winter boot, but a must-have for those winter night outs and quick trips from the car to your destination. There are so many variations of this type of boot that lift up any casual outfit.
I love the classic block heel with a sleek look and pointy toe for a casual date, or the coloured heel for a date night and the bedazzled bootie for a party.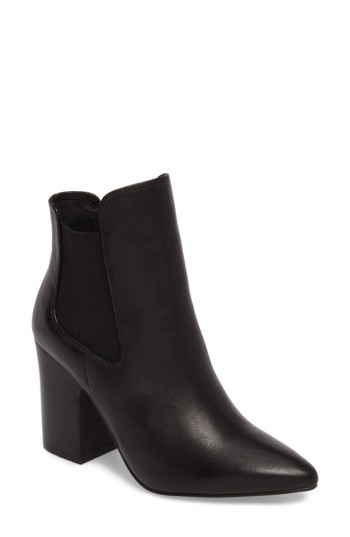 Sam Edelman Petty Ankle Bootie
5. Knee High Boots
Who doesn't love a knee high boot? Whether its knee high or over the knee, I love wearing them with leggings and a big sweater. Its a casual yet stylish look that anyone can pull off.
The flat knee highs keep your outfit casual, whereas the over the knee high boots with a heel add a little extra oomph.